:Name::Manami
:Gender:: Female
:Race:: Arrancar
:Age:: Appears to be 16-17 but she's really only a few months old.
:Physical Description:: Manami has black mid lenght hair,green eyes that usually change dark or light depending on the light in the room.
:Personality:: Manami's personality can be describe as quiet but thats just her shell for the people she doesnt know or like,and the the people she despises she can act quiet cold,she obeys her orders without no hesitation at all,she always hides her true self and never shows it to anyone
:Background Information:: Manami was always following Aizen since she was born,like a puppy following its master she never left his side he didn't mind,in fact he liked her always being by her side always helping him out with his Espada Army.
One day Aizen told her she will be someone's fraccion soon,she wanted to object and say no but nodded following his orders,as the days passed she wondered who's fraccion she will be,she wasnt as strong as the other fraccions in las noches but nonetheless awaited that day when she will become a fraccion she heard rumors she will be Ulquiorra's Fraccion but that couldnt be,he never had a fraccion so why would he need one now? must be Aizen saying maybe its time he has one or something but it was always hard understanding the Leader of Las Noches.
----Profession Info----
:Current Ranking::
(What is your current rank and name of rank?)Rank 1-Numeros Arrancar
:Arrancar Powers List[Limit is 10]::
Basic Bala~ Cost: 150 Sp
The basic Bala is an arrancar alternative to the cero. The technique hardens the user's spiritual pressure and fires it like a bullet from their hands. Though weaker than a cero blast, it moves about 10 times faster and can be fired at a much higher rate. This attack hits with the force of 300 Sp
Basic Cero~ Cost: 250 Sp
high-powered energy blasts that can be fired from various body parts, such as mouth, tongue, hand or fingers. Only menos, arrancar, and vizard have so far been shown to use cero attacks, and it appears that stronger entities can use it more efficiently. Cannot be blocked or stopped by anyone rank 3 or lower. This attack hits with the force of 500 Sp.
Natural Hierro~ Cost: None
This ability is always active and permanent. This is the "Armor" of the Arrancar army and a very strong defense against opponents who are somewhat weaker than the Arrancar they are attacking. If an opponent attacks an Arrancar of higher rank than they are, the opponent must either pay an extra cost of 250 Sp for each rank the arrancar is above them or the attack will have no effect against the Arrancar. If the opponent is equal in rank to the Arrancar, the arrancar may use this natural defense against attacks by paying half the SP cost of the incoming attack.:Appearance::
Sealed Form: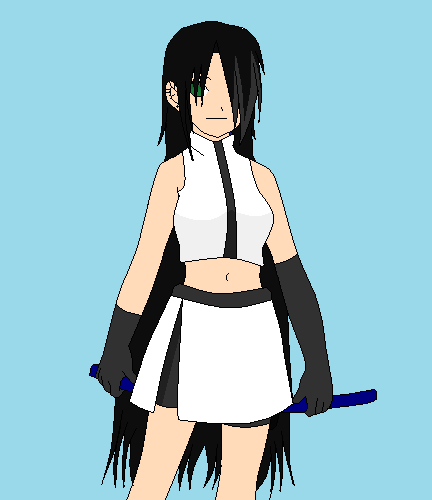 Release Form: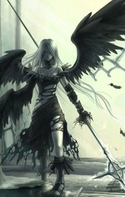 :Zanpakuto Info:: (Tell us a little about your zapakuto, like its design and whatnot)"Sacas tu alas...Angel!" (take out your wings,Angel!)
:Sealed Form Abilities and Powers[Limit 3, Sealed Form abilities are only available at rank 2 and up]::
1. (Name of technique)
Description:
2. (Name of technique)
Description:
3. (Name of technique)
Description:
:Release Form Abilities and Powers[Limit 3, Release form is only available to Rank 5(Experienced Fraccion) and above]::
(These are custom powers for your Release form. Any custom powers must be approved by an admin or moderator and will be denied if over-powered or considered god-modding.)
1. (Name of technique)
Description:
2. (Name of technique)
Description:
3. (Name of technique)
Description: